Toshiba Memory Spotlights Recent 96-Layer BiCS FLASH 3D Flash Memory Breakthroughs at Flash Memory Summit
Company to Demonstrate Broad Range of Flash Memory Solutions Designed to Scale for the Workloads of the Future
SANTA CLARA, Calif., August 6, 2018 – This week at Flash Memory Summit (FMS), Toshiba Memory America, Inc., the U.S.-based subsidiary of Toshiba Memory Corporation, will highlight recent advancements surrounding its industry-leading BiCS FLASH™ 3D flash memory in several applications. Toshiba will publicly unveil a prototype of its new 96-layer BiCS FLASH with QLC technology, which boosts single-chip memory capacity to the highest level yet achieved. Also making its debut will be the new XG6 series of SSDs, which are the industry's first SSDs based on 96-layer 3D flash memory.
Toshiba Memory will also demonstrate groundbreaking technologies in several different applications, including its broad lineup of client, enterprise and data center SSD solutions and industry-leading UFS™1. Demonstrations will take place in the company's two-level booth (#307, Hall A) on the show floor at the Santa Clara Convention Center from August 7-9. Additionally, Toshiba Memory will deliver a keynote presentation and present in multiple sessions on various technologies and topics surrounding SSDs and new flash technologies and applications.
In keeping with this year's FMS theme of designing for big data demands, Toshiba Memory is focused on collaborating with its customers and technology partners to power the digital transformation of business – where growth relies increasingly on data. According to Jeremy Werner, vice president of SSD marketing and product planning at Toshiba Memory America, Inc., "The fastest growing applications and workloads are creating massive amounts of data at a pace that is accelerating every day. The ability to manage and monetize that valuable data requires architectures that are built from the ground up to rely on the fastest, SSD-enabled storage. With the leading-edge SSD technologies and products we are demonstrating at Flash Memory Summit this year, Toshiba Memory's SSD product lines are the ideal foundation today for the most innovative platforms that we will grow to rely on tomorrow." 
"From being the first to introduce the concept of 3D flash memory to our most recent breakthrough with 96-layer QLC BiCS FLASH, Toshiba has demonstrated the technology leadership and vision needed to stay in front of the fast-moving storage market," noted Scott Nelson, senior vice president of Toshiba Memory America, Inc.'s Memory Business Unit. "We have consistently delivered industry-leading, first-of-their-kind technologies that address the data storage challenges being presented by existing and emerging applications. Moving forward, we will continue to champion the ability of BiCS FLASH to enable high-density storage solutions."
FMS Featured Keynote Presentation
"Scaling Flash Technology to Meet Application Demands"
Tuesday, August 7 from 11:40 a.m. – 12:10 p.m.
Shigeo (Jeff) Ohshima, technology executive, SSD application engineering at Toshiba Memory America, Inc., will present a keynote session titled: "Scaling Flash Technology to Meet Application Demands." The session will explore flash memory's key role in the storage systems that will enable the digital transformation of enterprise and hyperscale data centers.
FMS Breakout Sessions and Tutorials
Steven Wells – IO Determinism and QLC
Ram Johri – Kubernetes Platform for IoT Use Cases at the Edge
Sudhakar Mungamoori – Scaling Stateful Containers for Cloud-Native Applications with Elastic and High-Performance NVMe over Fabrics™2 (NVMe-oF™) Storage Provider
Drew Tipton – Data Encryption – TCG Ruby
Chander Chadha – NVMe™ SSD/PMR (with NetApp)
Rob Sykes – Off Module Power Loss Protection (PLP)

FMS Demos
Live demos at the Toshiba booth will include:
KumoScale™3 (NVMe over Fabrics Shared Accelerated Storage Software)
Interactive 8K Visualization of Nanoscale Brain Images featuring CM5 eSSDs and KumoScale NVMe-oF Shared Accelerated Storage Software
Client PCIe®4 SSD Portfolio (including newly announced XG6)
Data Center SSD Solutions (HK6, CD5, XD5)
Enterprise SSD Solutions (PM5, CM5, U.3)
Native NVMe-oF SSDs
Qualcomm®5 Snapdragon™6 845 Mobile Development Platform with Toshiba UFS 
Qualcomm Snapdragon 820A Automotive Development Platform with Toshiba UFS
For more information, please visit business.toshiba-memory.com. 
About Toshiba Memory America, Inc.
Toshiba Memory America, Inc. is the U.S.-based subsidiary of Toshiba Memory Corporation, a leading worldwide supplier of flash memory and solid state drives (SSDs). From the invention of flash memory to today's breakthrough 96-layer BiCS FLASH™ 3D technology, Toshiba continues to lead innovation and move the industry forward. For more information on Toshiba Memory, please visit business.toshiba-memory.com and follow the company on LinkedIn, Twitter (@Toshiba_Memory) and Facebook.
1Universal Flash Storage (UFS) is a trademark and product category for a class of embedded memory products built to the JEDEC UFS standard specification.
2NVMe, NVM Express, and NVMe-oF are trademarks of NVM Express.
3KumoScale is a trademark of Toshiba Memory Corporation.
4PCIe and PCI Express are registered trademarks of PCI-SIG.
5Qualcomm is a registered trademark of Qualcomm Incorporated.
6Qualcomm Snapdragon is a trademark of Qualcomm Incorporated.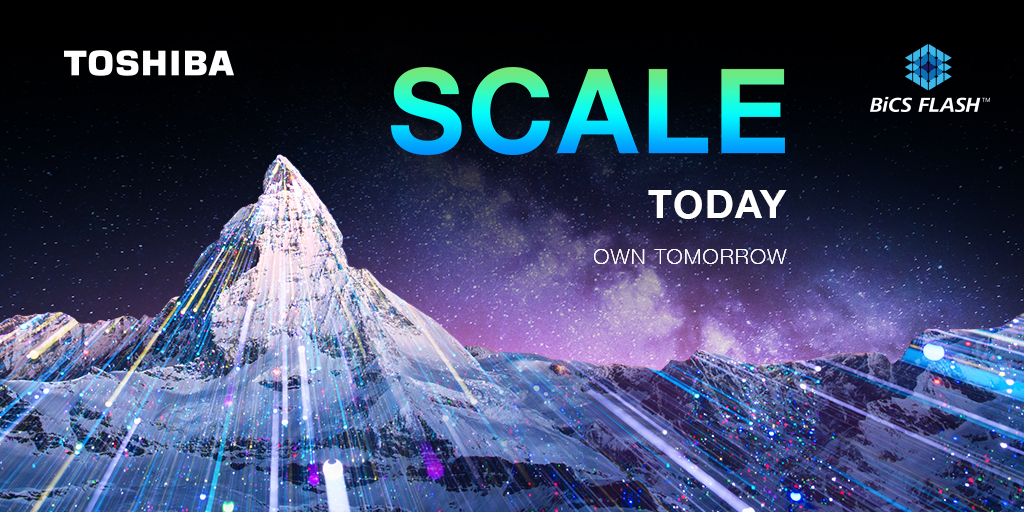 Information in this press release, including product pricing and specifications, content of services, and contact information is current and believed to be accurate on the date of the announcement, but is subject to change without prior notice. Technical and application information contained here is subject to the most recent applicable Toshiba product specifications.