BiCS FLASH™ | TLC y QLC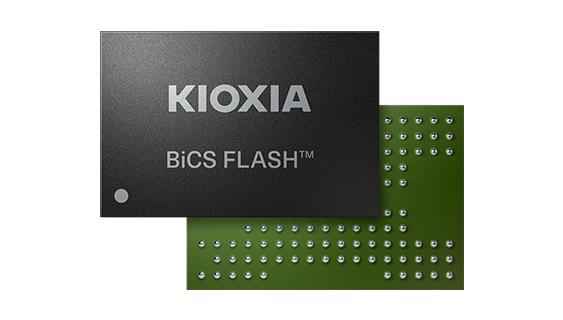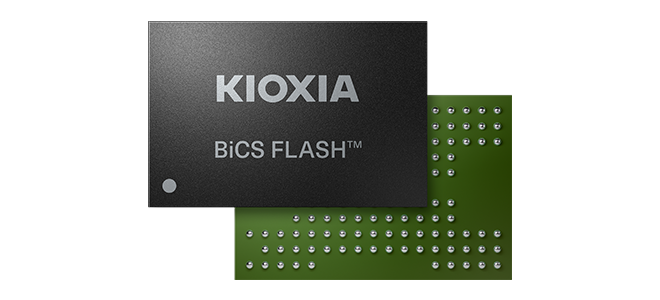 La tecnología de memoria  flash 3D escalable BiCS FLASH™ de KIOXIA aumenta la capacidad de memoria al nivel más alto alcanzado hasta el momento
BiCS FLASH™ de KIOXIA es una estructura de celda de memoria flash vertical tridimensional (3D). Esta estructura le permite superar la capacidad de la memoria flash 2D (planar). BiCS FLASH™ TLC de KIOXIA de 3 bits por celda, de 1 Tb (128 GB*1), una novedad en la industria*2, mejora la confiabilidad de la resistencia a la escritura/borrado y al mismo tiempo aumenta la velocidad de escritura. La compañía también ofrece un dispositivo BiCS FLASH™ de 1,33 Tb que cuenta con tecnología de celda de nivel cuádruple (QLC) de 4 bits por celda. Es el primer dispositivo de memoria flash 3D que lo hace.*3
Características clave de la tecnología de memoria flash 3D BiCS FLASH™ de KIOXIA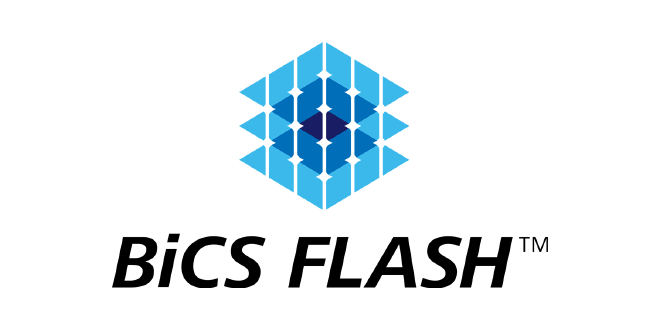 Densidad de almacenamiento por chip superior a la de las memorias flash convencionales
Mayor rendimiento de velocidad de lectura/escritura
Mayor confiabilidad que NAND 2D (planificador)
Bajo consumo de energía
Tecnología TLC (celda de triple nivel) y QLC (celda de cuádruple nivel)
La quinta generación de BiCS FLASH™ de KIOXIA ofrece 512 gigabits (Gb) de 3 bits por celda, celda de triple nivel (TLC) y tecnología QLC de mayor densidad que permite una mayor capacidad de chip. KIOXIA logró la capacidad más grande de la industria*4 por chip de 1,33 terabits (Tb) y una arquitectura apilada de 16 chips puede lograr una capacidad incomparable de 2,66 terabytes (TB) en un solo paquete.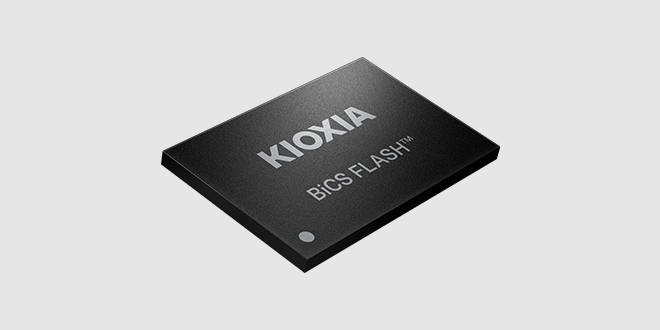 Opciones de paquete densas
Alta capacidad de memoria de un solo chip (hasta 2 TB)
Ecuación de costo/rendimiento favorable
Almacenamiento empresarial
Almacenamiento del centro de datos
Computación del cliente
Móvil
Automotriz
Consumidor
Industrial
Liderar el impulso hacia una mayor densidad y eficiencia de la memoria
KIOXIA fue el primer actor de la industria en imaginar y prepararse para la migración exitosa de la tecnología SLC a MLC, de MLC a TLC y ahora de TLC a QLC.
La tecnología QLC de KIOXIA es ideal para aplicaciones que requieren soluciones de almacenamiento de alta densidad y menor costo. El QLC actual reduce la huella con la densidad más alta disponible en un solo paquete.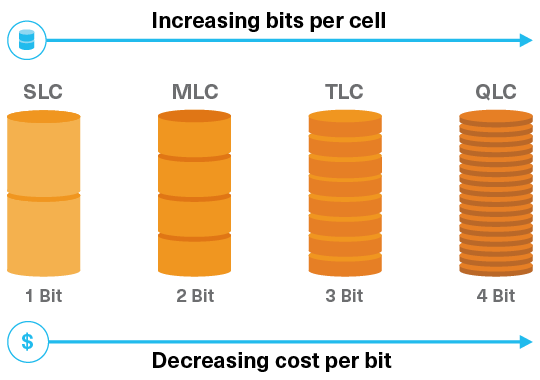 La densidad del producto se identifica sobre la base de la densidad del chip o los chips de memoria dentro del producto, no de la capacidad de memoria disponible para el almacenamiento de datos por parte del usuario final. La capacidad utilizable por el consumidor será menor debido a las áreas de datos de uso del sistema, el formato, los bloques erróneos y otras limitaciones, y también puede variar en función del dispositivo y la aplicación host. Para obtener más información, consulte las especificaciones del producto aplicables. La definición de 1 Gb = 230 bits = 1 073 741 824 bits. Se define que 1GB = 230 bytes = 1,073,741,824 bytes.
12 de junio de 2007, comunicado de prensa
28 de junio de 2017, comunicado de prensa
20 de julio de 2018, comunicado de prensa
KIOXIA 35° aniversario de la invención del flash NAND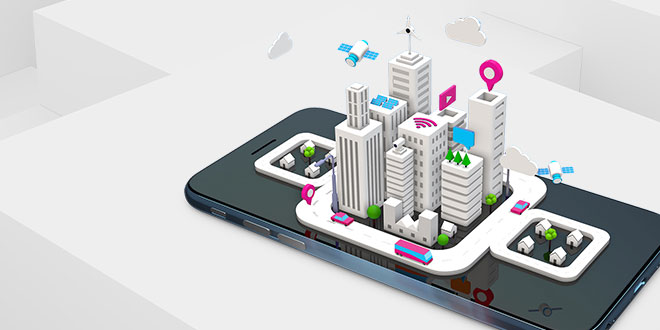 Whether it's automotive applications or compact high performance-oriented PCs or cloud server and hyperscale data center deployments, by delivering advanced high performance, high density, low power, low latency, reliability and more—KIOXIA memory and storage solutions enable the success of emerging applications and allow existing technologies to reach their expected potential.
Understanding 3D Flash Memory Part 1: Layers & Leadership
Understanding 3D Flash Memory Part 2: Layers vs Cost/Performance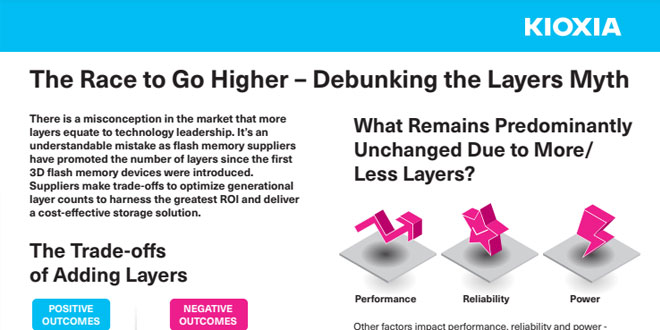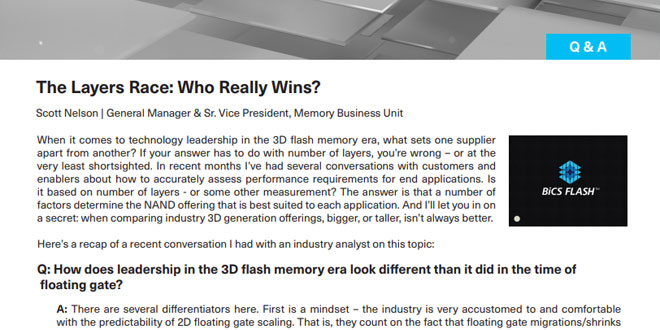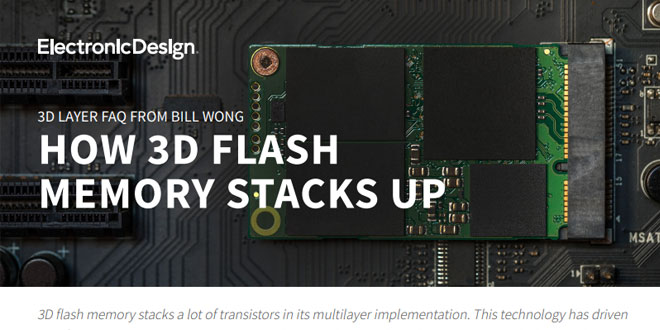 Please contact us if you have any technical questions, requests for materials, are interested in samples or purchases of business products (Memory, SSD), etc.