Toshiba Unveils NVME SSDs Using 64-Layer, 3D Flash Memory
New XG5 Series SSDs with BiCS FLASH deliver up to 1TB in a thin and light design to accelerate high performance notebooks and systems
IRVINE, Calif. — May 30, 2017 — Toshiba America Electronic Components, Inc. (TAEC), ), a committed technology leader,  today launched the XG5 series, a new line of NVM Express® (NVMe™)1 SSDs integrating 64-layer, 3D flash memories, offering up to 1TB2 capacity in a compact M.23 form factor. Starting today, OEM customers will have access to limited quantities of qualification samples with shipments gradually increasing in the second half of 2017.
As the third generation of the popular Toshiba XG Series, XG5 SSDs feature the latest 3-bit-per-cell TLC (triple-level cell) BiCS FLASH™4 and utilize PCI EXPRESS® (PCIe®)5 Gen3 x 4 lanes and NVMe Revision 1.2.1 to deliver extremely high performance up to 3000 MB/s of sequential read and 2100 MB/s of sequential write6. Compared to 6Gbit/s SATA storage, the XG5 Series is up to 5.4 times faster on sequential read performance and up to 3.8 times faster on sequential write performance7 with a maximum interface bandwidth of 32 GT/s.8 Additionally, XG5's feature-set also features an SLC cache for excellent performance to accelerate burst type workloads, such as those experienced routinely on Windows®9 -based PCs, as well as improved standby power consumption reduced by over 50%10 to less than 3mW11, making these SSDs an excellent solution for high performance mobile computing.
"We are proud to introduce the first ever NVMe SSD equipped with 64-layer BiCS FLASH technology, and we expect broad adoption from our major PC OEM customer base," said Jeremy Werner, vice president SSD marketing and product planning at Toshiba America Electronic Components, Inc. "The XG5 Series demonstrates Toshiba's ability to deliver a cutting-edge, high performance and low power solution for client PC applications that can also be leveraged as a server or boot drive storage solution."
XG5 Series SSDs will be available in three capacities, 256GB, 512GB and 1024GB, all on a single-sided M.2 2280 form factor. Self-encrypting drive (SED) models12 supporting TCG Opal Version 2.01 will also be offered, making the XG5 series highly suited to a wide range of applications including ultra-mobile PCs that prioritize performance and business applications requiring security.
The XG5 series SSDs will be showcased at COMPUTEX TAIPEI 2017 in Taipei, Taiwan, from May 30 to June 3.
Toshiba will continue to strengthen its SSD storage solutions, utilizing cutting-edge flash memory technology to meet diverse market needs. For more information on Toshiba's broad line of storage products, please visit: https://toshiba.semicon-storage.com/us/product/storage-products.html.  To learn more about Toshiba's storage solutions visit the storage blog at http://storage.toshiba.com/corporateblog/ and follow @ToshibaStorage on Twitter.
About Toshiba Corp. and Toshiba America Electronic Components, Inc. (TAEC)
Through proven commitment, lasting relationships and advanced, reliable electronic components, Toshiba enables its customers to create market-leading designs. Toshiba is the heartbeat within product breakthroughs from OEMs, ODMs, CMs, VARs, distributors and fabless chip companies worldwide. A committed electronic components leader, Toshiba designs and manufactures high-quality flash memory-based storage solutions, solid state drives (SSDs), hard disk drives (HDDs), discrete devices, custom SoCs/ASICs, imaging products, microcontrollers, wireless components, mobile peripheral devices, advanced materials and medical tubes that make possible today's leading smartphones, tablets, cameras, medical devices, automotive electronics, industrial applications, enterprise solutions and more. 
Toshiba America Electronic Components, Inc. is an independent operating company owned by Toshiba America, Inc., a subsidiary of Toshiba Corporation, Japan's largest semiconductor, solid state drive and hard disk drive manufacturer and the world's seventh largest semiconductor manufacturer (Gartner, 2015 Worldwide Semiconductor Revenue, January, 2016). Founded in Tokyo in 1875, Toshiba is at the heart of a global network of over 550 consolidated companies employing over 188,000 people worldwide. Visit Toshiba's web site at http://toshiba.semicon-storage.com.
1 NVM Express and the NVM Express logo are registered trademarks, and NVMe is a trademark of NVM Express, Inc.
2 Definition of capacity: Toshiba defines a megabyte (MB) as 1,000,000 bytes, a gigabyte (GB) as 1,000,000,000 bytes and a terabyte (TB) as 1,000,000,000,000 bytes. A computer operating system, however, reports storage capacity using powers of 2 for the definition of 1TB = 230 = 1,099,511,627,776 bytes and therefore shows less storage capacity. Available storage capacity (including examples of various media files) will vary based on file size, formatting, settings, software and operating system, such as Microsoft Operating System and/or pre-installed software applications, or media content. Actual formatted capacity may vary.
3 M.2 Type 2280
4 Product density is identified based on the maximum density of memory chip(s) within the Product, not the amount of memory capacity available for data storage by the end user. Consumer-usable capacity will be less due to overhead data areas, formatting, bad blocks, and other constraints, and may also vary based on the host device and application.
5 PCIe® and PCI EXPRESS® are registered trademarks of PCI-SIG.
6 Read and write speed may vary depending on the host device, read and write conditions, and file size.
7 Comparison is based on the theoretical maximum sequential bandwidth that SATA can provide vs the XG5 Series SSDs based on BiCS FLASH 64-layer technology
8 Giga Transfers per second.
9 Windows is a registered trademark of Microsoft Corporation in the United States and/or other countries.
10 Compared to Toshiba XG3 series
11 L1.2 in non-operation mode.
12 Availability of the SED model line-up may vary by region.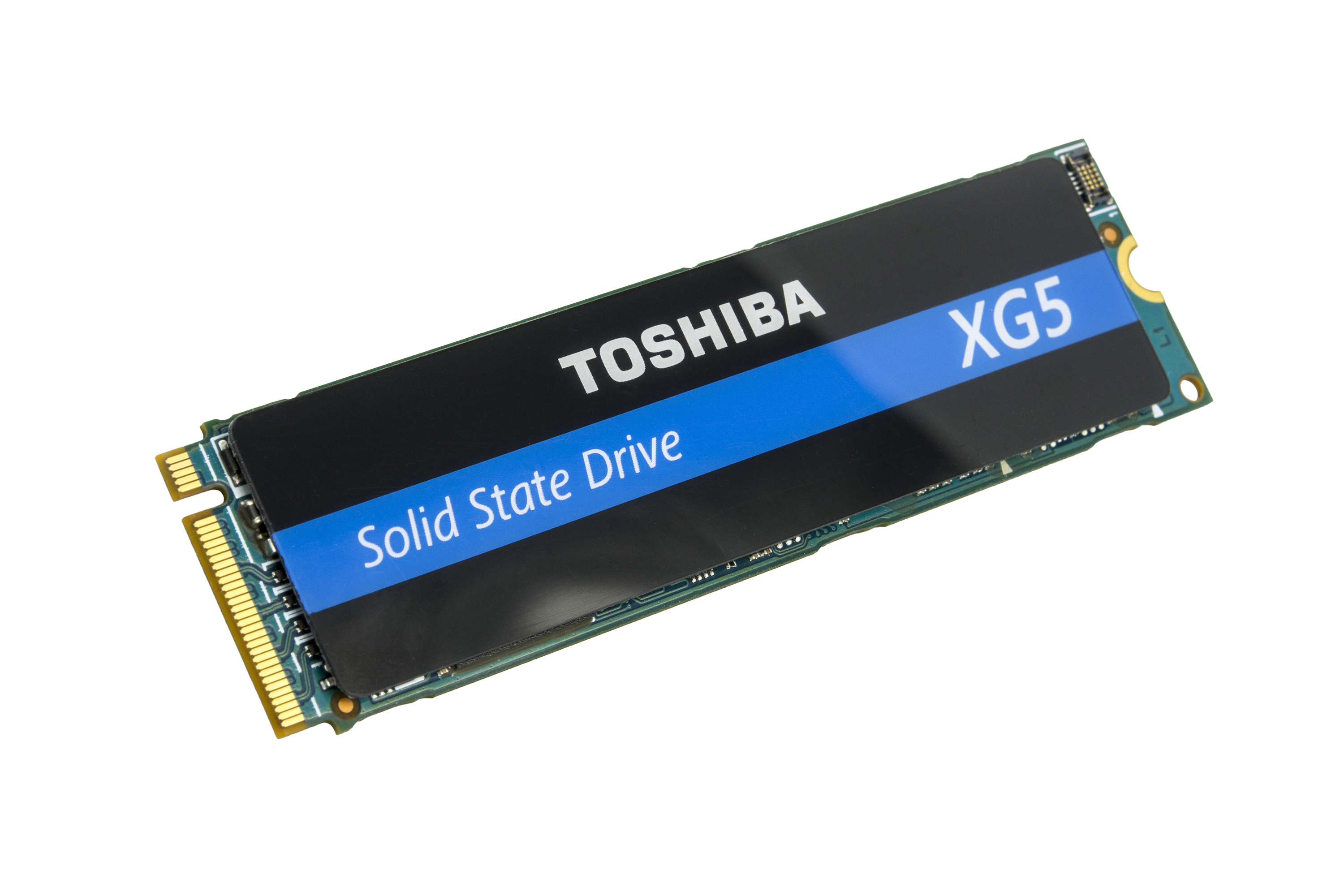 Information in this press release, including product pricing and specifications, content of services, and contact information is current and believed to be accurate on the date of the announcement, but is subject to change without prior notice. Technical and application information contained here is subject to the most recent applicable Toshiba product specifications.