Toshiba Unveils Single Package SSDs with 64-Layer 3D Flash Memory
New BG3 NVMe™1 SSDs offer ultra-compact design enabling mobile computing and IoT devices to be smaller, lighter, faster, and more power efficient
IRVINE, Calif. — August 3, 2017 — Toshiba America Electronic Components, Inc. (TAEC), a committed technology leader, today announced the availability of the state-of-the-art BG3 series, its next generation single-package ball grid array (BGA) solid state drive (SSD) product line based on Toshiba's latest 64-layer, 3-bit-per-cell TLC (triple-level cell) BiCS FLASH™.  Designed to fuel the future of mobile devices, Toshiba's BG3 SSDs deliver better performance2 and a smaller footprint than traditional SATA-based drives. Moreover, with its cost-effective DRAM-less design, the unique BG3 series enables a high quality user experience at a fraction of the power requirement of other NVM Express®3 (NVMe™) SSDs4.
Toshiba's BG3 series leverages the Host Memory Buffer (HMB) feature in NVMe Revision 1.2.1 to maintain high performance without integrated DRAM by using host memory for flash management purposes. This powerful combination allows devices to harness the performance of NVMe storage while maximizing footprint and affordability to deliver a next-generation mobile experience to end users. Both fast and economical, these miniaturized SSDs also offer data center and enterprise applications an alternative solution for server boot storage.
With style and portability top of mind for today's laptop and tablet manufacturers, the BG3 series was designed specifically to enable even slimmer and more power efficient devices. By eliminating DRAM from its design, Toshiba's BG3 series offers the world's thinnest SSDs5 available at just 1.3mm high and delivers lower power consumption to maximize battery life.
Toshiba BG3 SSDs are small in size but not performance. Featuring a PCI Express® (PCIe®)6 Gen3 x2 lane and NVMe Revision 1.2.1 architecture, BG3 delivers to up to 1520 MB/s sequential read, 2.7 times the theoretical maximum bandwidth of SATA 6Gbit/s and up to 840 MB/s sequential write7, 1.5 times the theoretical maximum bandwidth of SATA 6Gbit/s. Additionally, BG3 also features SLC cache for excellent performance to accelerate burst type workloads, such as those routinely experienced on Windows®8-based PCs.
The ultra-compact BG3 series is available in 128GB, 256GB, and 512GB capacities9. All three models are available in a surface-mount BGA (M.2 1620) or a removable module (M.2 2230) form factor for platform design flexibility.
 "Toshiba's third generation BG SSDs were designed to not spark, but fuel a revolution in mobile and IoT computing," said Jeremy Werner, vice president SSD marketing and product planning at Toshiba America Electronic Components, Inc. "The BG3 series is not only smaller and lighter, but smarter thanks to its cost-effective DRAM-less design with HMB technology combined with Toshiba 64-layer 3D flash memory with TLC technology. These SSDs enable OEMs to reimagine what's possible for their customers."
"When it comes to the data center, Toshiba BG3 series SSDs can help bridge the power and price gap between enterprise SATA and mainstream client NVMe SSDs," said Neville Ichhaporia, director client and datacenter SSD marketing at Toshiba America Electronic Components, Inc. "Every data center is pursuing ways to reduce both capital and operating expenses. The BG3 series addresses these concerns by providing boot storage with improved power consumption and a compact footprint at appropriate capacities."
BG3's single-package design features a Toshiba-developed controller and firmware, tightly integrated with Toshiba Flash memory and is optimized for performance, low power, and reliability. To address modern security needs, self-encrypting drive options (SED) with TCG10 Opal Version 2.01 are available. 
The BG3 series is sampling to customers and will be demonstrated at the Flash Memory Summit 2017 in Santa Clara, CA, from August 8 to 10 in booth #407.
For more information on Toshiba's line of industry-leading SSDs, please visit: http://toshiba.semicon-storage.com/us/product/storage-products.html. To learn more about Toshiba's storage solutions, follow @ToshibaStorage on Twitter.
About Toshiba and Toshiba America Electronic Components, Inc. (TAEC)
Through proven commitment, lasting relationships and advanced, reliable electronic components, Toshiba enables its customers to create market-leading designs. Toshiba is the heartbeat within product breakthroughs from OEMs, ODMs, CMs, VARs, distributors and fabless chip companies worldwide. A committed electronic components leader, Toshiba designs and manufactures high-quality flash memory-based storage solutions, solid state drives (SSDs), hard disk drives (HDDs), discrete devices, custom SoCs/ASICs, imaging products, microcontrollers, wireless components, mobile peripheral devices, advanced materials and medical tubes that make possible today's leading smartphones, tablets, cameras, medical devices, automotive electronics, industrial applications, enterprise solutions and more. 
Toshiba America Electronic Components, Inc. is an independent operating company owned by Toshiba America, Inc. For over 140 years, Toshiba Corporation has contributed to a sustainable future by applying innovative technologies to value creation. Today, our business domains are centered on the essential infrastructure that supports modern life and society. Guided by the principles of The Basic Commitment of the Toshiba Group, "Committed to People, Committed to the Future", Toshiba promotes global operations that contribute to realization of a world where generations to come can live better lives.
To find out more about Toshiba, visit www.toshiba.co.jp/worldwide/about/index.html
1 NVMe is a trademark of NVM Express, Inc.
2 Faster sequential read/write transfer speeds
3 NVM Express and the NVM Express logo are registered trademarks.
4 Compared to M.2 2280 SSDs and M.2 1620/2230 SSDs containing DRAM
5 128GB and 256GB BGA models; Toshiba Memory Corporation survey, as of Aug. 3, 2017
6 PCIe® and PCI EXPRESS® are registered trademarks of PCI-SIG..
7 Toshiba Memory Corporation survey based on sequential read and write speeds of 128KiB units, using 512GB models in the BG3 series under Toshiba Memory Corporation test conditions. Read and write speed may vary, depending on the host device, read and write conditions, and file size. Toshiba Memory Corporation defines a megabyte (MB) as 1,000,000 bytes and a kibibyte (KiB) as 210 bytes, or 1,024 bytes. The sequential read and write performance mentioned herein are reference data, and may vary with the BG3 product data in the datasheet.
8 Windows is a registered trademark of Microsoft Corporation in the United States and/or other countries.
9 Definition of capacity: Toshiba Memory Corporation defines a gigabyte (GB) as 1,000,000,000 bytes. A computer operating system, however, reports storage capacity using powers of 2 for the definition of 1GB = 230 bytes = 1,073,741,824 bytes, and therefore shows less storage capacity. Available storage capacity (including examples of various media files) will vary based on file size, formatting, settings, software and operating system, such as Microsoft Operating System and/or pre-installed software applications, or media content. Actual formatted capacity may vary.
10 Trusted Computing Group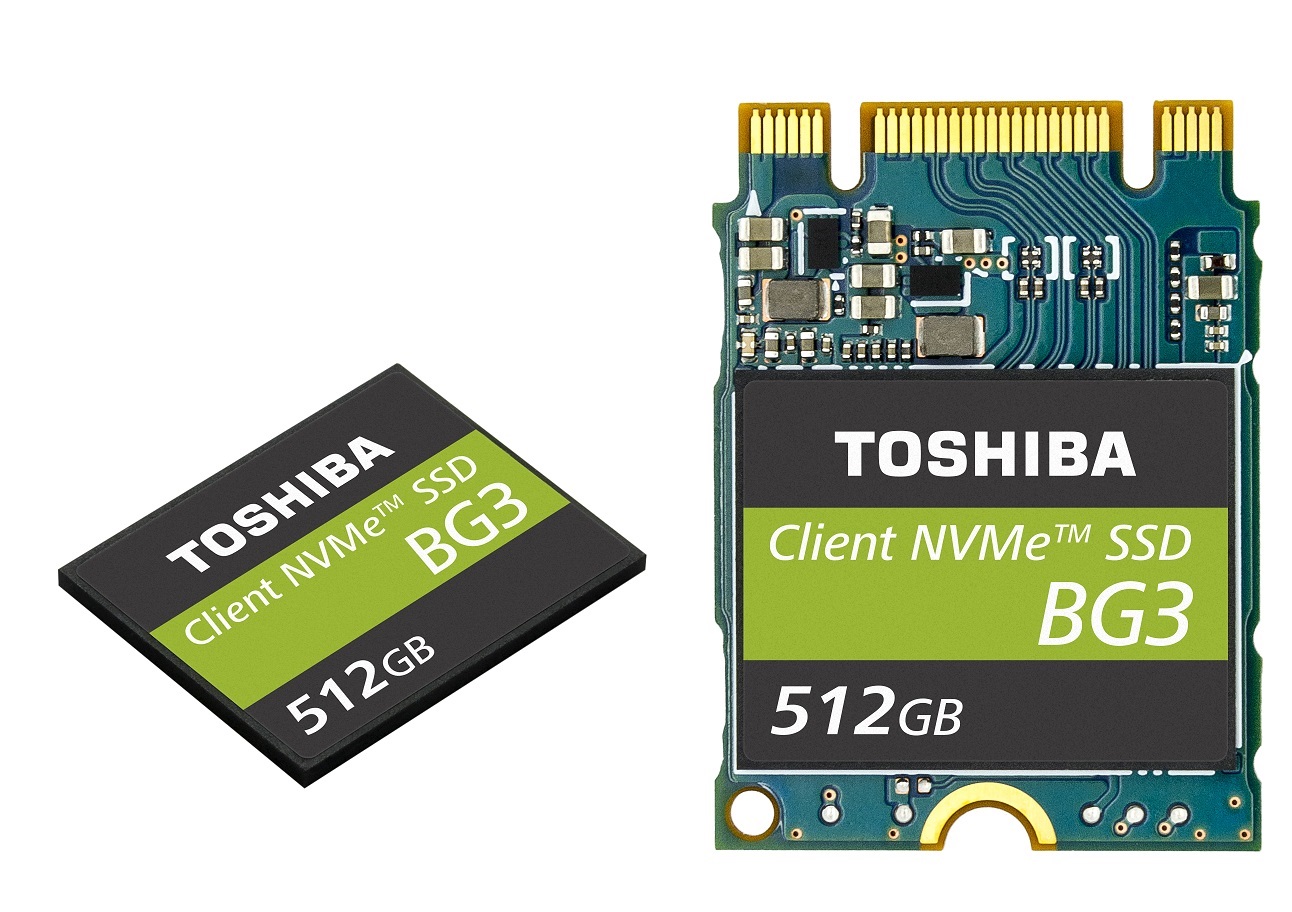 Information in this press release, including product pricing and specifications, content of services, and contact information is current and believed to be accurate on the date of the announcement, but is subject to change without prior notice. Technical and application information contained here is subject to the most recent applicable Toshiba product specifications.