Toshiba Memory Corporation Adds New Lineup of Data Center SSDs Featuring BiCS FLASH 64-Layer 3D Flash Memory
High-Performance, Feature-Rich NVMe and SATA SSDs Optimized for Data Center Applications
SAN JOSE, Calif. — Mar. 19, 2018 — Toshiba Memory America, Inc. (TMA), the U.S.-based subsidiary of Toshiba Memory Corporation, has enhanced its portfolio of solid-state drives (SSDs) for the data center with a new, 3D flash memory-based lineup of PCI Express® NVMe™ and SATA SSDs in multiple form factors. The new CD5, XD5 and HK6-DC SSDs enable infrastructure managers to address performance and workload demands by offering robust performance and reliability with lower operating power for read-intensive applications such as NoSQL databases, big data analytics and streaming media.
"Demand for flash storage in data centers continues to grow rapidly – with capacity shipped into the enterprise expected to increase at a 58 percent CAGR through 2021," said Jeff Janukowicz, IDC Research Vice President for Solid State Drives and Enabling Technologies.  "In order for hyperscale, virtualization, automation/orchestration and software-defined storage applications to thrive, cloud data centers must meet specific workload requirements. Toshiba's latest data center SSDs are designed to help customers address these demanding environments and realize the most value from their flash storage."
The new lineup of SSDs utilize Toshiba's next-generation BiCS FLASH™ 3D flash memory, which is based on the company's industry-leading 64-layer architecture and uses 3-bit-per-cell (triple-level cell, TLC) technology. Additionally, the CD5, XD5 and HK6-DC SSD families are designed with end-to-end vertical integration to deliver quality and reliability.
TMC's PCIe® NVMe SSDs are designed for multiple data center workload profiles. The CD5 Series supports capacities ranging from 960GB to 7,680GB1 in a U.2 form factor, delivering 500,000/35,000 random read/write IOPS and up to 3,140/1,980MB/s sequential read/write performance within a 9-14W power envelope.2 The XD5 Series is a small footprint M.2 22110 form factor SSD that supports capacities up to 3.84TB and delivers up to 2,600/890MB/s sequential read/write performance in a 7W power envelope. These SSDs are optimized for low latency and performance consistency in read-intensive workloads, and targeted at Open Compute Project (OCP) and hyper-scale/cloud applications.
The HK6-DC Series is a 6Gbit/s SATA SSD and is available in 960GB, 1.92TB and 3.84TB capacities. This read-intensive, latency optimized SSD delivers up to 85,000 random read IOPS and up to 550MB/s sequential read performance. These performance numbers are more than 400 times better than those of a 15,000 rpm higher performance hard disk drive (HDD). They also represent continued improvements over previous generation SATA SSDs.
"Today's data centers continually face heavy workloads and require high reliability, low-power solutions able to deliver consistent application performance," said Neville Ichhaporia, director of client and data center SSD marketing for TMA. "Our new lineup of BiCS FLASH-based NVMe and SATA SSDs address these demands with a combination of great performance, low latency and high reliability to provide efficient storage solutions for cloud environments."
Toshiba's new data center SSDs feature power loss protection and support cryptographic erase support for secure removal of data. They also utilize AES 256-bit data to encrypt data securely without the performance impact associated with software-based solutions. Designed to provide excellent IO consistency, Toshiba's new SSDs include a five-year limited warranty.
Toshiba continues to lead the industry with flash innovations for the evolving data center landscape and is committed to long-term customer relationships. With billions of dollars invested in memory and SSD development and fab capacity, customers and partners can depend on Toshiba for leading-edge storage technology. The company will begin shipping samples of the CD5, XD5 and HK6-DC SSD families to select customers in Q2 2018.
About Toshiba Memory America, Inc.
Toshiba Memory America, Inc. (TMA) is the US-based subsidiary of Toshiba Memory Corporation, a leading worldwide supplier of flash memory and solid state drives (SSDs). From the invention of flash memory to today's breakthrough 96-layer BiCS FLASH™ 3D technology, Toshiba continues to lead innovation and move the industry forward. For more information on TMA, please visit www.toshiba.com/TMA and follow the company on LinkedIn, Twitter (@Toshiba_Memory) and Facebook.
PCIe and PCI Express are registered trademarks of PCI-SIG. NVM Express is a trademark of NVM Express, Inc. All other company names, product names, and service names mentioned herein may be trademarks of their respective companies.

Product density is identified based on the density of memory chip(s) within the Product, not the amount of memory capacity available for data storage by the end user. Consumer-usable capacity will be less due to overhead data areas, formatting, bad blocks, and other constraints, and may also vary based on the host device and application. For details, please refer to applicable product specifications.
1Definition of capacity: A terabyte (TB) is 1,000,000,000,000 bytes. A computer operating system, however, reports storage capacity using powers of 2 for the definition of 1TB = 240 = 1,099,511,627,776 bytes and therefore shows less storage capacity. Available storage capacity (including examples of various media files) will vary based on file size, formatting, settings, software and operating system and/or pre-installed software applications, or media content. Actual formatted capacity may vary.
2Read and write speed may vary depending on the host devices, read and write conditions, and file size.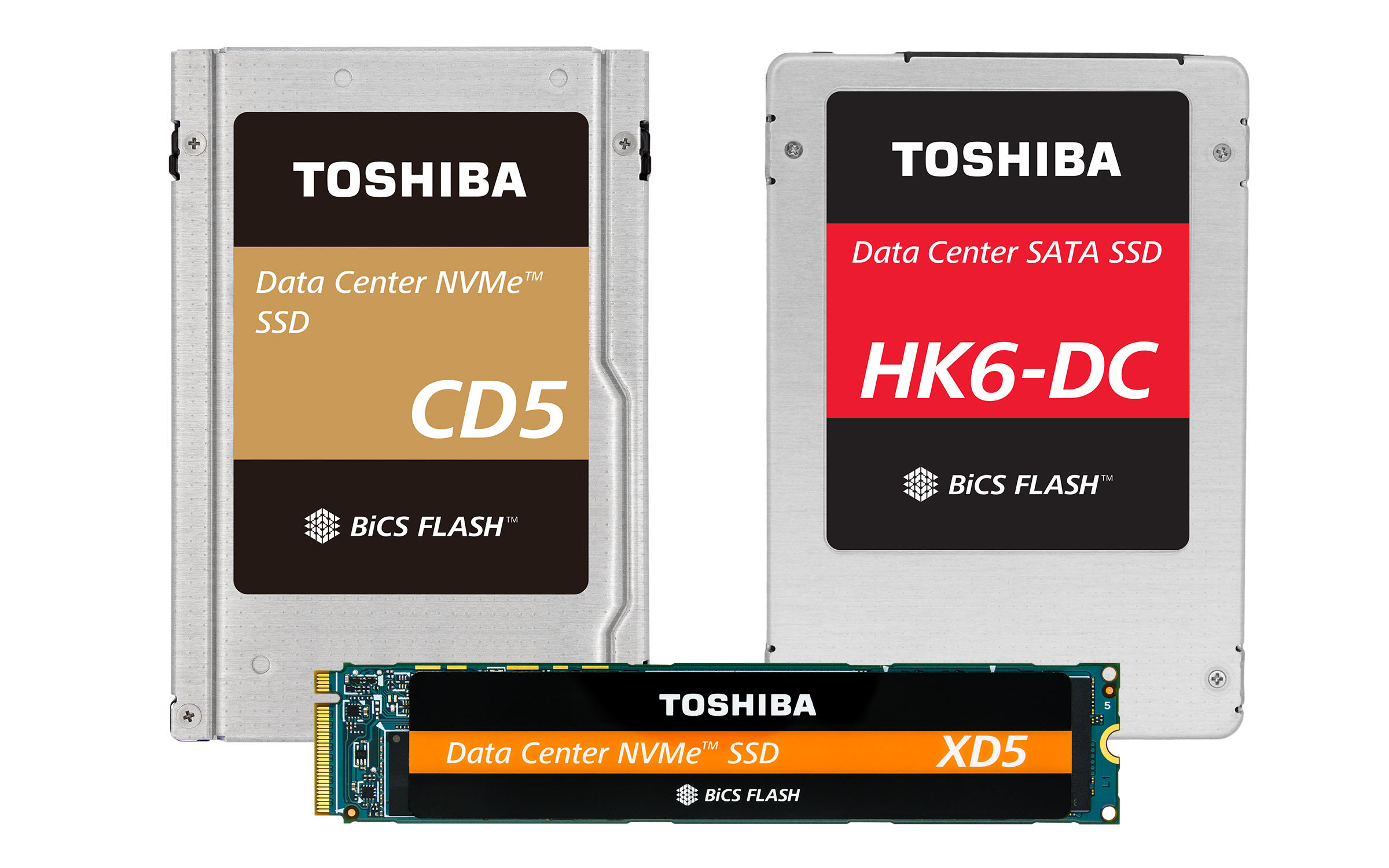 Information in this press release, including product pricing and specifications, content of services, and contact information is current and believed to be accurate on the date of the announcement, but is subject to change without prior notice. Technical and application information contained here is subject to the most recent applicable Toshiba product specifications.