KIOXIA SSD × Sustainability :
The Talk - KIOXIA and NTT Communications Collaborate for a Sustainable and Green Future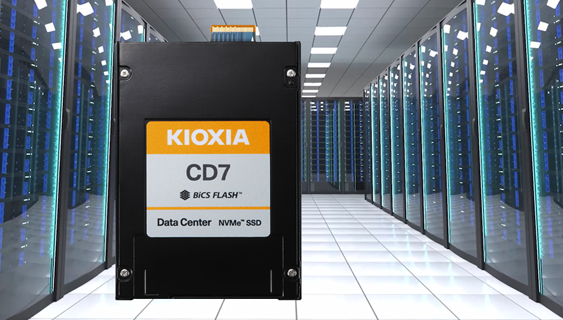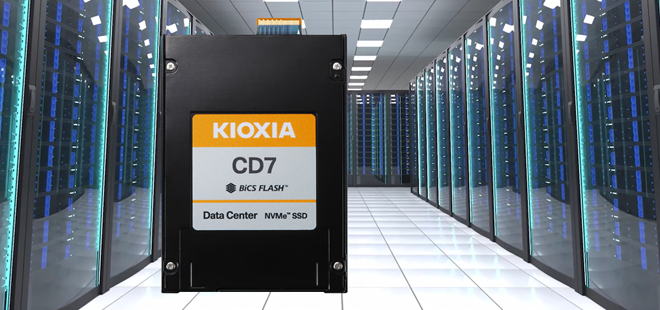 Introducing the KIOXIA and NTT Communications (herein after called "NTT Com") collaboration regarding KIOXIA's SSD (Solid State Drive) products for a sustainable and green future. KIOXIA is dedicated to addressing the ever-increasing volumes of data created in its data centers by developing new SSD and flash memory technology solutions for enterprise systems. At the same time, NTT Com is committed to meet the demand for high-speed processing of complex workloads with its cutting-edge data center technologies and solutions. In the video link below, learn about the initiatives by both companies to engage the sustainable and green future.

The Talk - KIOXIA x NTT Communications - Collaboration for a Sustainable and Green Future (12:12)
Major Forces Moving the World in the 21st Century; Information and Data
What are the major forces moving the world in the 21st century? The answer is information and data. From smart phones to PCs to data center servers, and even manufacturing equipment. Everything is connected. We believe we should focus on not only efficiently creating and storing data, but how to effectively utilize it. In an intelligent society, how do we develop data integration and communication technologies across a wide range of fields? We believe ICT is the solution.
Digital transformation, or DX, of society is accelerating. This is driving new consumer applications, such as extended reality, smart cities and autonomous driving, while businesses escalate the use of cloud computing, AI, and enabling the remote workforce. Mobile networks have shifted to 5G and are converging with compute and network resources – including fixed-line telecommunications – which are becoming increasingly important.
5G is characterized by high speed connectivity, the ability to transfer large amounts of data with low latency, and with multiple connections. Low latency across a 5G network can be achieved with edge computing. Against this backdrop, the amount of data created and consumed by society has grown dramatically, and will continue to ramp up in the foreseeable future.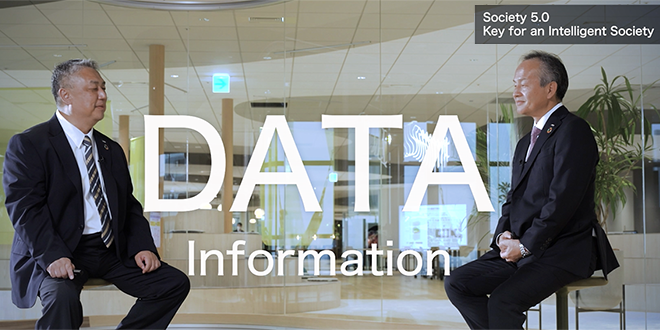 Approach to Carbon Neutrality in State-of-the-art Data Centers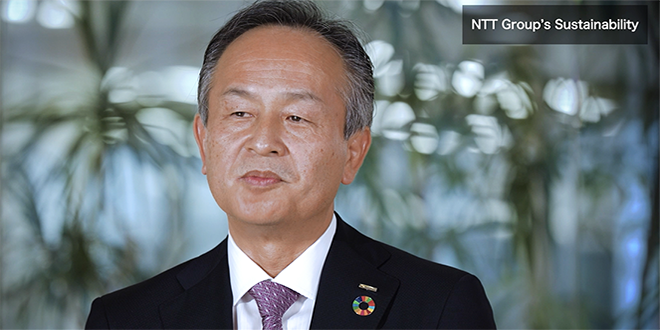 Mr. Hidemune Sugahara
Senior Executive Vice President, Representative Member of the Board
Head of Business Solution Division
NTT Communications Corporation
Strong economic growth and mass consumer consumption have resulted in a global environmental problem, which has grown to become a societal issue. We need to innovate technologies that increase efficiency, working toward the sustainable use of natural resources in a renewable cyclical approach.
NTT Group developed its Environmental Vision in 2021. Based on this vision, NTT Com has set a goal to achieve carbon neutrality, which are energy conservation and expanding renewable energy resource utilization, by 2030. To achieve carbon neutrality by 2030, NTT Com is working on two initiatives: Green of ICT and Green by ICT. Carbon neutrality for data centers is aligned with the Green ICT initiative.
Even with green initiatives, application data still needs to be analyzed at high speeds, with low latency, such as distributed edge compute processing and other complex workloads – increasing the importance for state-of-the-art data centers to host these compute resources.
This high level of processing leads to higher power consumption in the data center on a daily basis. Various solutions are implemented to cool servers and other data center equipment efficiently.
One approach is to increase server rack density. Other approaches include an AI-controlled air conditioning control system, a wall air conditioning unit and air conditioning that is able to adapt to seasonal changes. Furthermore, more advanced immersion cooling and rear-door systems are being developed to provide much higher operational efficiency.
Use of renewable energy sources is also expanding to accelerate "green transformation". In order to accommodate customer needs, NTT Com will provide a menu of power generation types, including solar, geothermal, and biomass, in addition to the capability to forecast and visualize CO2 emissions using the cloud.

Approach to Sustainability and Evolution of KIOXIA SSDs
One key advantage of using semiconductors is saving power. Semiconductor-based storage has become indispensable for an infrastructure storing digital data. Vast numbers of SSDs have been deployed in large-scale data centers. Creating greater energy efficiencies in data centers, KIOXIA developed its BiCS FLASH™ 3D flash memory technology to increase storage density, including stacking more layers, lateral scaling and multi-level cell technology. KIOXIA also offers a broad lineup of SSDs for enterprise and hyperscale data centers, including new EDSFF drives to help improve cooling efficiency and storage density within data centers.
Additionally, widespread use of 5G networks and the adoption of AI are accelerating. Technology innovations continue to evolve into new virtual services, such as VR, AR and extended reality. Focusing on real-time processing is crucial – especially for valuable compute resources used for complex workload processing. KIOXIA is promoting high performance SSDs, as well as software solutions that take advantage of the many benefits of SSDs in data centers.
Providing low latency SSD access, even across a network, NVMe-oF™ technology architectures deliver large-scale, high performance disaggregated storage. Complimenting NVMe-oF™ storage, KIOXIA developed an NVIDIA GPUDirect Storage solution, where the GPU directly accesses NVMe™ SSDs and processes data without host CPU intervention.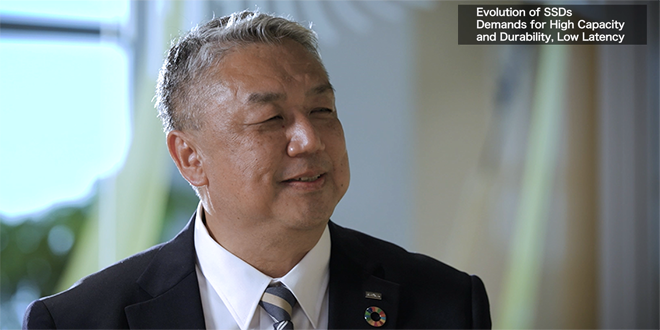 Mr. Masashi Yokotsuka
Managing Executive Officer, Vice President
General Manager SSD Division, KIOXIA Corporation
Creating a More Prosperous and Greener Society - KIOXIA × NTT Communications Collaboration
@OPEN HUB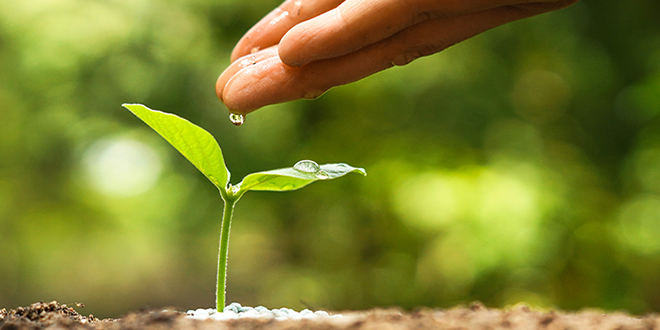 We are encouraged with the innovations between our companies' collaborative efforts ever since flash memory has become a storage technology used in data centers. While NTT Com has worked to efficiently cool data centers, KIOXIA's memory products help to reduce power consumption and heat. These efforts will enable the continual explosion of data in our society.
NTT Com has launched a new business co-creation program called "OPEN HUB" to accelerate the realization of Smart World. The program creates new concepts and will implement them in society to help realize a prosperous future. They are also working on another co-creation program called "Nexcenter Lab". With these efforts, NTT Com and KIOXIA have collaborated to develop a new technology for high-speed data processing around great technologies such as NVIDIA GPUDirect Storage.
KIOXIA has been developing NAND flash technology for 35 years, but we are still a new company. Our mission is uplifting the world with "memory." And with our partners, we create new value in a data-driven society. We are also actively pursuing development goals to create a sustainable society through our flash products and business practices.
Looking toward the next generation of green data centers, KIOXIA develops very energy efficient flash memory and SSDs, as well as data management technologies to get the most out of flash.

Through these efforts, KIOXIA is creating a more sustainable and green transformation. Along with the next generation green data center, OPEN HUB represents a place of collaboration that delivers innovation and customer value. KIOXIA will use this opportunity to create a more prosperous and greener society, working with you to develop environmentally-friendly storage technologies that will benefit the world.
Senior Executive Vice President, Representative Member of the Board
Head of Business Solution Division
NTT Communications Corporation
Joined Nippon Telegraph and Telephone Corporation in 1987, mainly engaged in satellite communications, broadband, application and contents business. Senior Vice President and Head of the Second Sales Division of NTT Communications in 2016, President & CEO of NTT Com Solutions in 2018, Executive Vice President and Representative Member of the Board of NTT Communications in 2019, Senior Executive Vice President and Representative Member of the Board, Head of Platform Service Division of NTT Communications in 2020, and Senior Executive Vice President and Representative Member of the Board, Head of Business Solution Division of NTT Communications in 2022 (current). He has led the Business Solutions Division since June 2022, to promote the realization of a "Smart World" that solves social issues through ICT and DX for customers.


Managing Executive Officer, Vice President
General Manager SSD Division, KIOXIA Corporation
Joined Toshiba Corporation in 1987. Joined Toshiba America Electronic Components Company in 1999. General Manager of Memory Application Technology Second Division, Memory Division of Toshiba Semiconductor & Storage Products Company in 2013. General Manager, SSD Division, Memory Division of Storage & Device Solutions Company in 2016. Director and General Manager of SSD Division of Toshiba Memory Corporation (KIOXIA Corporation) in 2017. Managing Executive Officer and General Manager of SSD Division of KIOXIA Corporation since August 2018 (current).


NVMe and NVMe-oF are registered or unregistered marks of NVM Express, Inc. in the United States and other countries.
Any other company names, product names, and service names may be trademarks of their respective companies.
All rights reserved. Information, including product specifications, content of services, and contact information is believed to be accurate as of October, 2022, but is subject to change without prior notice. Technical and application information contained here is subject to the most recent applicable KIOXIA product specifications.