EDSFF - A New SSD Form Factor for Next Gen Servers and Storage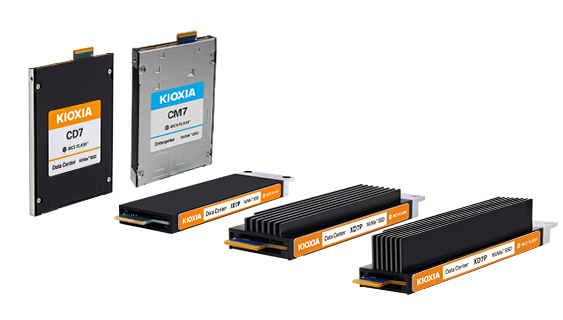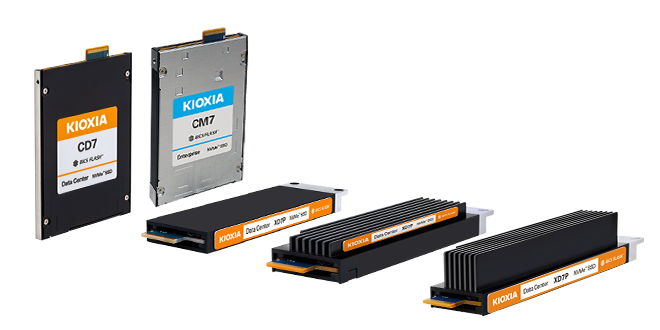 The Future of Enterprise and Data Center Storage is EDSFF
EDSFF stands for Enterprise and Data Center Standard Form Factor. The EDSFF specification was created by a group of industry leaders to address the concerns of data center storage. Today, the dominant form factors are 3.5", 2.5" and M.2 for storage applications. EDSFF aims to address the issues and limitations enterprise and data center users face with legacy form factors by designing a new specification meant for NAND flash memory. The benefits include, but aren't limited to, better signal integrity and the ability to deliver more power to an SSD for superior performance.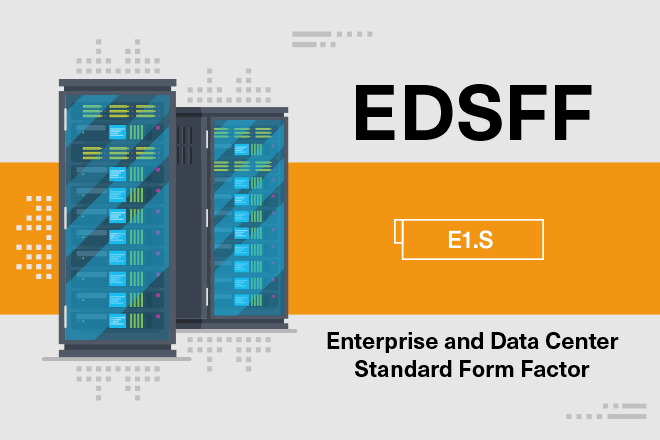 Which EDSFF Is Right for Me?
 
KIOXIA CD7 Series E3.S
KIOXIA CM7 Series E3.S
KIOXIA XD6 Series E1.S
KIOXIA XD7P Series E1.S
Use Cases
- 2U performance servers


- Storage arrays
- 2U performance servers
- 1U performance servers
- Cloud compute servers
Endurance
Read Intensive (1 DWPD for 5 years)
Read Intensive (1 DWPD for 5 years)
Mixed-Use (3 DWPD for 5 years)
Read Intensive (1 DWPD for 5 years)
Interface
Designed to PCIe® 5.0 and NVMe™ 1.4 specifications 
PCIe® 5.0 and designed to NVMe™ 1.4 specifications
PCIe 4.0®,
NVMe™ 1.3c
Designed to PCIe® 4.0 and NVMe™ 2.0 specifications
Storage Capacity (GB)
1,920 / 3,840 / 7,680
1,920 / 3,840 / 7,680 / 15,360 / 30,720
1,920 / 3,840
1,920 / 3,840 / 7,680
Security Options
SIE
SIE, SED, FIPS
SED
SED, non-SED
EDSFF Architecture Requirements
Taking into account 'what's needed' for a new form factor architecture given 2.5-inch and M.2 drive limitations, the resulting architecture needs to be a balance of these requirements to achieve an optimal design:
Signal Integrity Issues: May be apparent in next-generation high-frequency interfaces such as the upcoming PCIe 6.0 interface specification.
Link Widths: Multiple host connection link widths should support device types with link widths for PCIe x4 and x8 connections.
Physical Serviceability: Hot-swapping drives without having to power down an entire server.
Power Envelopes: Options should be available that scale power envelopes to higher power devices. For PCIe 4.0 NVMe SSDs, 25W is required to saturate a PCIe 4.0 (16 GT/s x4) link.
Thermal Capabilities: Capabilities that enable continued operations in extreme server temperature environments. Improved airflow can be very beneficial to a system and is based on Cubic Feet of air moved per Minute (CFM) versus system temperature. A system that operates with lower CFM helps to reduce power and cooling when larger heatsinks are used.
Form Factor Sizes: Different sizes should be supported for 1U and 2U platforms, and be large enough to accommodate multiple device types and high performance flash memory controllers.
Capacity: Enclosure widths that provide optimal space for flash memory chips, which in turn can enable higher capacity SSDs and more capacity per allowable space.
Security: 'Presence detect' capability so if the device is powered off, it can be detected if it is in the system or removed from the system.
PCIe Generations: The connector system at a minimum should support PCIe 5.0 and PCIe 6.0 interfaces, and ideally, PCIe interfaces beyond PCIe 6.0.