KIOXIA Corporation provides next-generation PCIe® 4.0 data center NVMe™ SSDs with its XD6 and XD7P Series, which are designed to the Open Compute Project® (OCP) Datacenter NVMe™ SSD specification and available in E1.S form factors. There are a number of key reasons why these new EDSFF E1.S SSDs can enable a data center server architecture to adapt to changes, but the top five supported by KIOXIA include:
Higher Performance / Higher Power Budget vs. M.2 Devices: More than doubles the power budget versus M.2 devices, enabling E1.S SSDs to saturate PCIe® Gen4 performance.
Standardized Thermal Solutions: Improves interoperability across vendors and platforms while providing the flexibility to select the right balance of cooling and storage density through different E1.S heatsink options.
Improved Physical Serviceability: Vastly improves serviceability with hot plug support that no longer requires an entire server to be taken down in order to replace a single SSD.
Designed to Better Accommodate NAND Flash Memory Packages: Wider PCB design enables optimized orientation of the NAND flash memory packages, providing headroom for higher capacity drives.
Supported by Leading Hyperscalers: Meta™ and Microsoft®, leading authors of the OCP Datacenter NVMe™ SSD specification, are specifying E1.S designs on upcoming OCP platforms, promoting industry-wide adoption.
E1 - Hyperscale Servers and Storage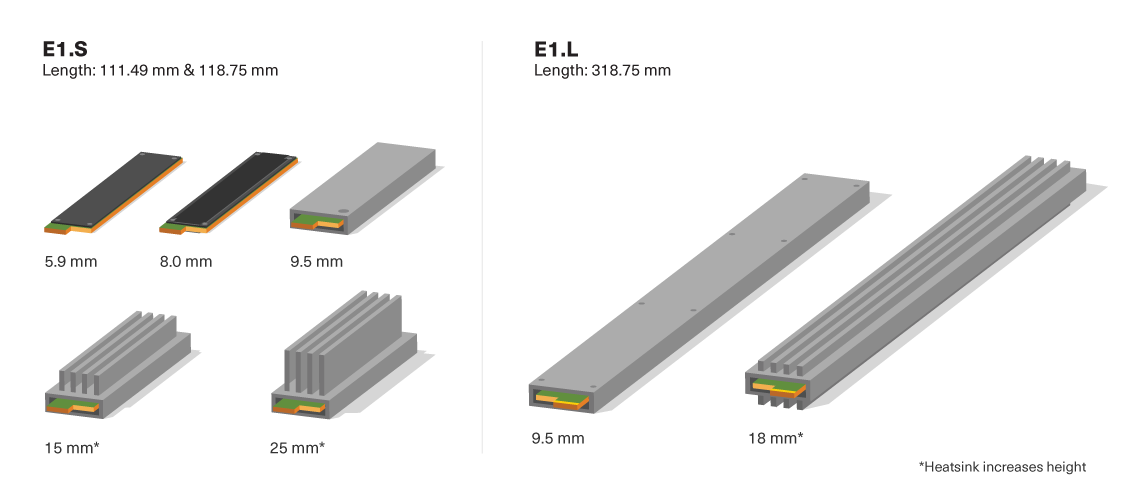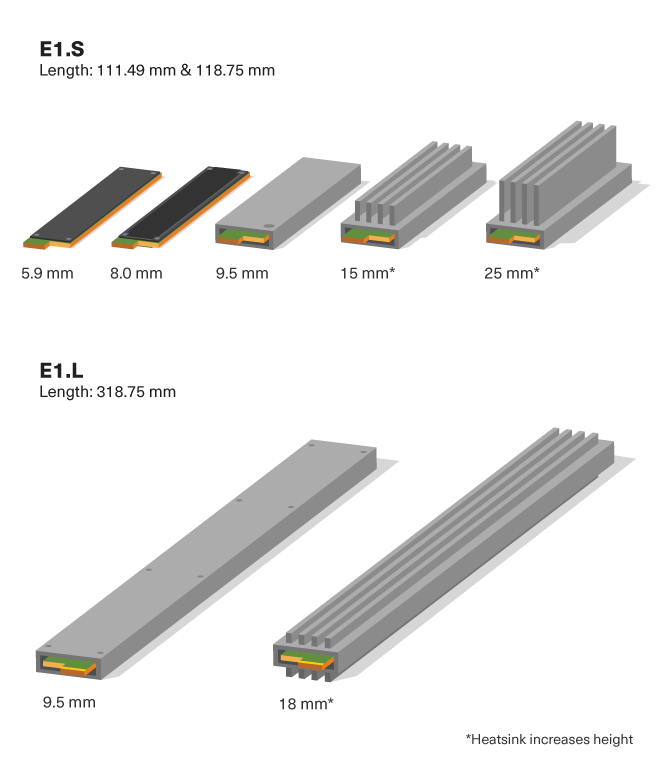 Type
Width
Length
Thickness (Height)
Max Power
E1.S 5.9 mm
31.5 mm
111.49 mm
5.9 mm
12 W
E1.S 8 mm with heat spreader
8.01 mm
16 W
E1.S 9.5 mm with symmetric enclosure
33.75 mm
118.75 mm
9.5 mm
20 W
E1.S 15 mm with asymmetric heatsink
15 mm
25 W
E1.S 25 mm with asymmetric heatsink
25 mm
E1.L 9.5 mm with symmetric enclosure
38.4 mm
318.75 mm
9.5 mm
25 W
E1.L 18 mm with symmetric heatsink
18 mm
40 W
E1.S form factors are well-suited for these use cases:
| | |
| --- | --- |
| Target System | Small footprint systems |
| Examples | Blade servers; Edge compute and storage systems; Dense, scaled servers |
| Primary Need(s) | Performance; Excellent thermal capabilities |
| Use(s) | 2.5-inch and M.2 replacement |
| Typical Configuration | 6 to 12 E1.S SSDs |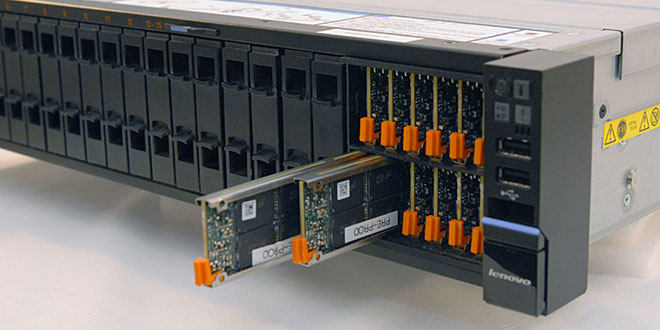 | | |
| --- | --- |
| Target System | 1U/2U/4U and special-purpose systems |
| Examples | Compute blades and systems; Performance and capacity-optimized storage systems; Artificial Intelligence/Machine Learning (AI/ML) and High Performance Computing (HPC) systems; Edge systems |
| Primary Need(s) | Scalable performance and capacity; Optimized thermal performance |
| Use(s) | 2.5-inch and M.2 replacement for boot and primary storage |
| Typical Configuration | 2 to 32 E1.S SSDs |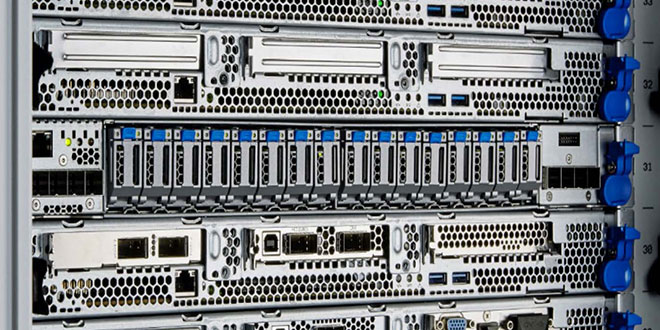 | | |
| --- | --- |
| Target System | 2U and larger systems |
| Examples | Storage appliances; Input/Output (I/O) and storage-rich servers / databases; Performance-oriented storage systems |
| Primary Need(s) | Scalability of performance with capacity; Lower cost per performance |
| Use(s) | Mainstream 2.5-inch replacement |
| Typical Configuration | 36 to 64 E1.S SSDs |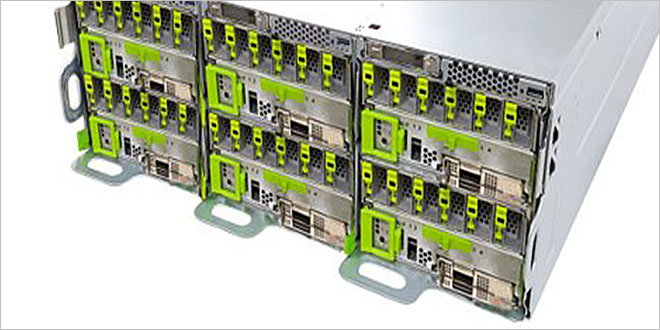 KIOXIA EDSFF E1 Offerings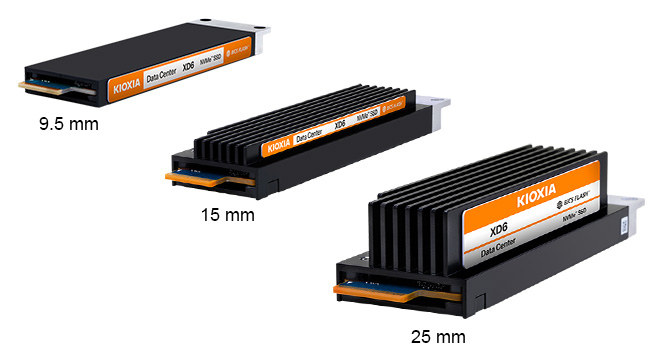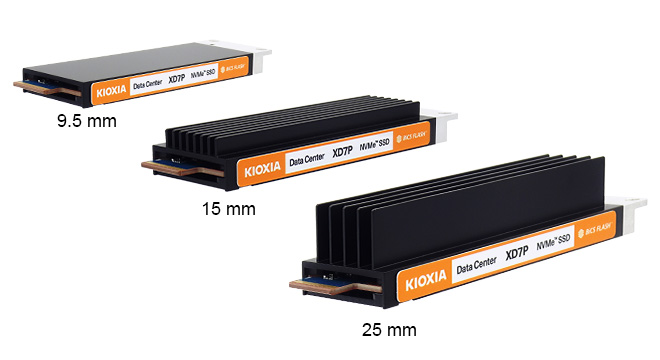 Product
Form Factor
Endurance
Interface
Storage Capacity (GB)
Sequential Read/Write
Random Read/Write
XD6
EDSFF E1.S
Read Intensive
(1 DWPD for 5 years)
PCIe® 4.0, NVMe™ 1.3c
1,920
3,840

Up to
6,500/2,350 MB/s
Up to
880K/90K IOPS
XD7P
PCIe® 4.0, NVMe™ 2.0
1,920
3,840
7,680
TBD
TBD