KIOXIA Corporation provides next-generation PCIe® 4.0 data center NVMe™ SSDs with its XD6 and XD7P Series, which are designed to the Open Compute Project® (OCP) Datacenter NVMe™ SSD specification and available in E1.S form factors. There are a number of key reasons why these new EDSFF E1.S SSDs can enable a data center server architecture to adapt to changes, but the top five supported by KIOXIA include:
Higher Performance / Higher Power Budget vs. M.2 Devices: More than doubles the power budget versus M.2 devices, enabling E1.S SSDs to saturate PCIe® Gen4 performance.
Standardized Thermal Solutions: Improves interoperability across vendors and platforms while providing the flexibility to select the right balance of cooling and storage density through different E1.S heatsink options.
Improved Physical Serviceability: Vastly improves serviceability with hot plug support that no longer requires an entire server to be taken down in order to replace a single SSD.
Designed to Better Accommodate NAND Flash Memory Packages: Wider PCB design enables optimized orientation of the NAND flash memory packages, providing headroom for higher capacity drives.
Supported by Leading Hyperscalers: Meta™ and Microsoft®, leading authors of the OCP Datacenter NVMe™ SSD specification, are specifying E1.S designs on upcoming OCP platforms, promoting industry-wide adoption.
E1 - Hyperscale Servers and Storage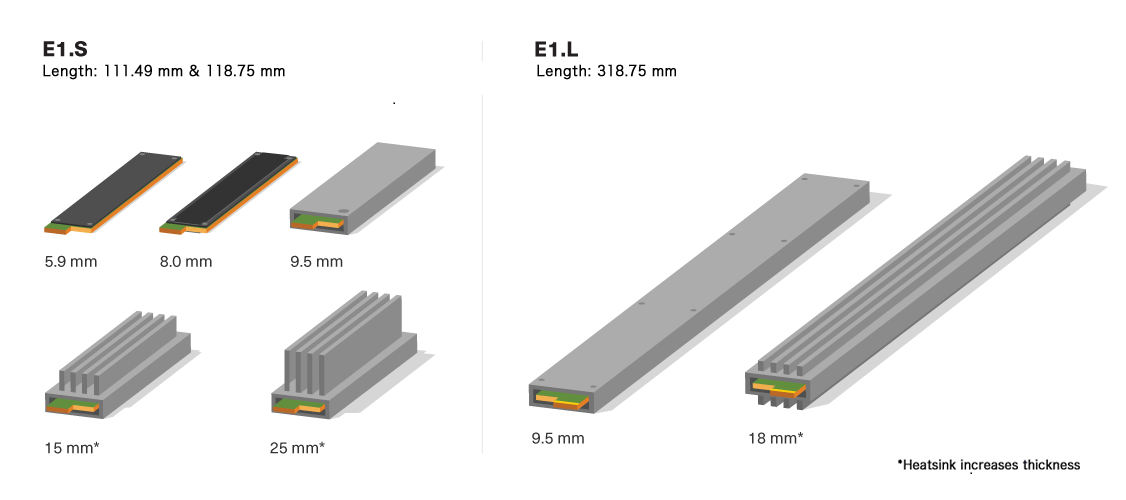 Type
Thickness (mm)
Width (mm)
Length (mm)
Max Power (W)
E1.S 5.9 mm
5.9
31.5
111.49
12
E1.S 8 mm with heat spreader
8.01
16
E1.S 9.5 mm with symmetric enclosure
9.5
33.75
118.75
20
E1.S 15 mm with asymmetric heatsink
15
25
E1.S 25 mm with asymmetric heatsink
25
E1.L 9.5 mm with symmetric enclosure
9.5
38.4
318.75
25
E1.L 18 mm with symmetric heatsink
18
40
E1.S form factors are well-suited for these use cases:
| | |
| --- | --- |
| Target System | Small footprint systems |
| Examples | Blade servers; Edge compute and storage systems; Dense, scaled servers |
| Primary Need(s) | Performance; Excellent thermal capabilities |
| Use(s) | 2.5-inch and M.2 replacement |
| Typical Configuration | 6 to 12 E1.S SSDs |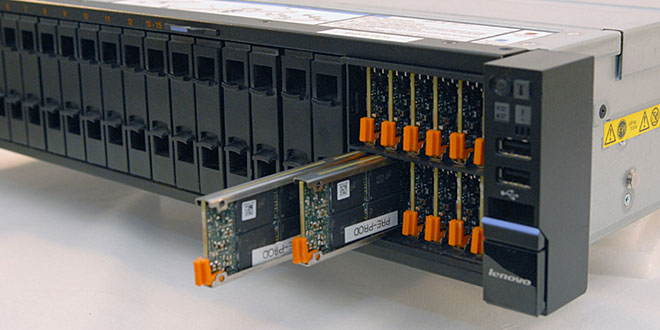 | | |
| --- | --- |
| Target System | 1U/2U/4U and special-purpose systems |
| Examples | Compute blades and systems; Performance and capacity-optimized storage systems; Artificial Intelligence/Machine Learning (AI/ML) and High Performance Computing (HPC) systems; Edge systems |
| Primary Need(s) | Scalable performance and capacity; Optimized thermal performance |
| Use(s) | 2.5-inch and M.2 replacement for boot and primary storage |
| Typical Configuration | 2 to 32 E1.S SSDs |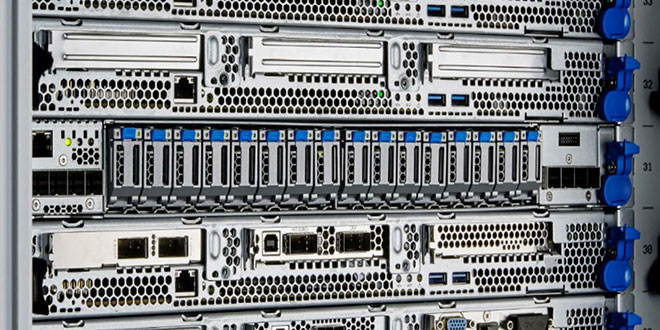 | | |
| --- | --- |
| Target System | 2U and larger systems |
| Examples | Storage appliances; Input/Output (I/O) and storage-rich servers / databases; Performance-oriented storage systems |
| Primary Need(s) | Scalability of performance with capacity; Lower cost per performance |
| Use(s) | Mainstream 2.5-inch replacement |
| Typical Configuration | 36 to 64 E1.S SSDs |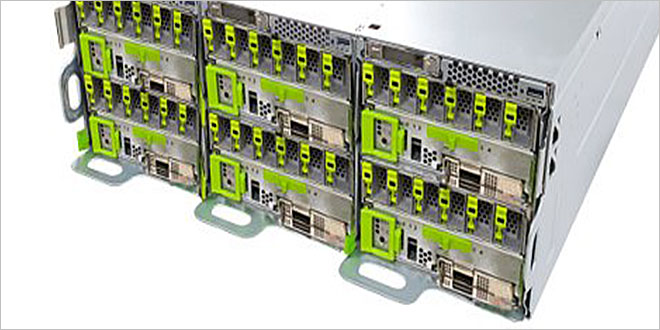 KIOXIA EDSFF E1 Offerings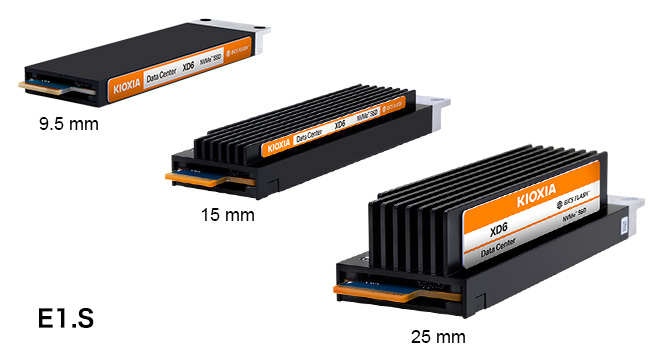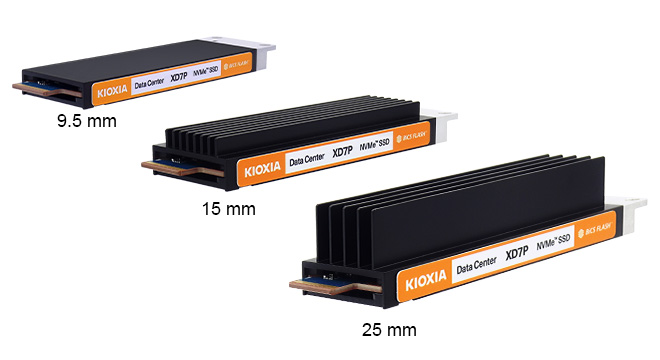 KIOXIA SSD Series
Form Factor
Endurance
Interface
Storage Capacity (GB)
Sequential Read/Write (MB/s)
Random Read/Write (IOPS)
EDSFF E1.S
Read Intensive
(1 DWPD for 5 years)
PCIe® Gen4 x4, NVMe™ 2.0
1,920
3,840
7,680
Up to
7,200 / 4,800
Up to
1,650K / 200K
PCIe® Gen4 x4, NVMe™ 1.3c
1,920
3,840

Up to
6,500 / 2,350
Up to
880K / 90K
Companies Offering EDSFF E1.S-enabled Platforms
EDSFF E1.S server and storage platforms are becoming available in the market. Here are some E1.S enabled products that are announced or currently available, as of September 2023.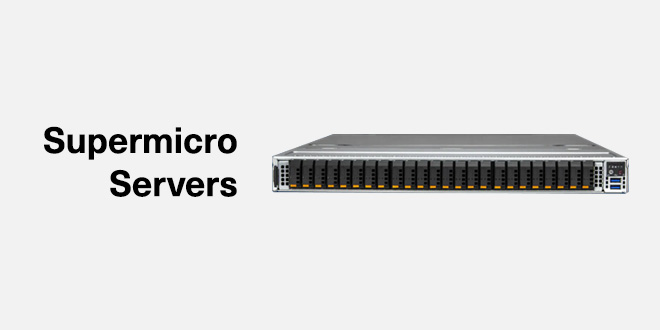 PCIe is a registered trademark of PCI-SIG.
NVMe is a registered or unregistered mark of NVM Express, Inc. in the United States and other countries.
Other company names, product names, and service names may be trademarks of third-party companies.
All rights reserved. Information, including product specifications, content of services, and contact information is believed to be accurate as of October, 2023, but is subject to change without prior notice. Technical and application information contained here is subject to the most recent applicable KIOXIA product specifications.